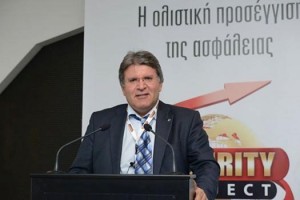 PARASKEVAS VERONIS
CURRICULUM VITAE

Born in 1959 in Piraeus, married and father of two children.
Bachelor degree in Electronic Engineering. In procession of the License for Practicing Radio-electronics.
Security/Safety Consultant.
Certified Member as an Adult Trainer by the National Certification Qualification Vocational Guidance (EOPPEP- AM EV24002).
Certified Instructor for Security and Safety Technicians accredited and recognized by the Ministry of Labor.
Certified Instructor-Tutor by ΟΑΕΔ/ΛΑΕΚ ΑΜ
Certified Inspector in Security and Fire safety of facilities and buildings (EKEPIS-STEP 92-3181).
Certified Inspector in Security- Health and Quality Control (EKEPIS- STEP3182).
Member of more than 20 years of the Bank Security Committee of the Hellenic Bank Association.
Member of the Greek Association of Occupational Health and Safety technicians (STAE), with active involvement and action.
Member of the Professional Union of Technologists Engineer (ΕΕΤΕΜ Α.Μ. 12691).
For 25 years he worked as a Security & Safety Manager in various Financial Institutions, with excellent results and performance having as a major target the implementation and the cultivation of Preventive Security culture.
During the 25 years as a Security & Safety Manager has trained thousands of bank employees concerning the Prevention the Minimization and Management of Security Risks, along with the implementation of all relevant procedures and regulations.
Took part in specialized Conferences & Seminars regarding Security & Safety.
Associate instructor at various KEK and IEK.
In 2005 he first investigated and installed, in Greece, the controlled access doors. The installation of this system of entrance-exit within all the Bank branches (of the Financial Institution that he worked for as a Security Manager), has as a result the prevention of robberies, by maintaining for years the best statistics in robberies compared to the rest of the competitors.
The effectiveness of this measure was evaluated by the Ministry of Citizen Protection and the Greek Police. As a consequence, ever since the controlled access doors have been implemented as a mandatory method of entrance-exit in all Greek bank branches. The implementation of the Ministerial Decision 3015 / 23-03- 2009, suggests the risk-minimization of robberies in all the bank branches around the country.
He compiled research and numerous studies regarding the Regulations & Procedures of Security and a host of written projects concerning the Safety issues within the working environment.
Throughout his professional career and experience he managed his work with the principle and the belief that: " Security and Safety are the two links in the same chain ", by following this belief the risks were minimized.
Lifelong education is his most valuable principle.